Physiotherapy
Treatment aimed at the improvement of movement disorders through exercise, manual therapy, specialized equipment and education to ensure restoration of normal pain-free range of motion, resumption of sports activities and activities of daily living and preventive measures.


Sports Injury Rehabilitation
Sports activities frequently lead to injuries that cause tissue damage, loss of function, pain and misalignment. Sports Injury Rehabilitation works to promote tissue repair and restoring full function in order to return to sports play in optimal health.
Motor Vehicle Accident
To book an assessment for your motor vehicle accident injuries, please email or call us (905.337.7007). We may contact you if additional information is needed. Don't worry about payment and paperwork. We will handle that on your behalf with your adjuster.


Massage Therapy
Massage uses a variety of manual manipulation techniques to work deep layers of muscles and connective tissue. It promotes relaxation, enhances physical functioning, healing, mobilization of joints, vascular circulation, lymphatic drainage and overall well-being. Iana Mardar (pictured above) and David Page (pictured below) are registered massage therapists who graduated from the Sutherland Chan School. Give us a call to set up an appointment.
Medical Acupuncture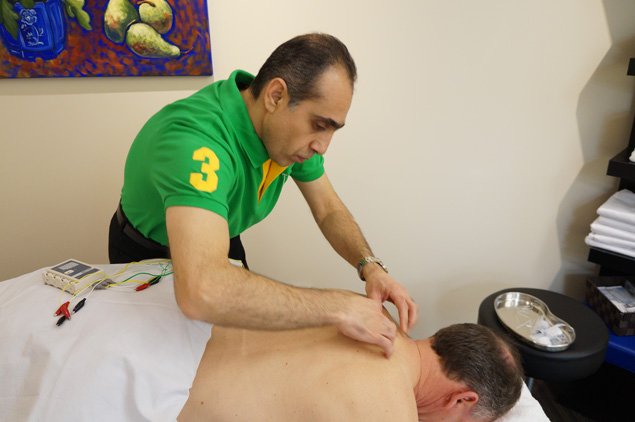 The purpose behind this treatment is to stimulate the body to produce its own pain relieving chemicals – natural endorphins that aid in blocking pain impulses travelling to the brain. The idea is to enhance the body's natural healing process and pain control networks and promote generalized relaxation. Acupuncture is safe, reliable and effective. Some conditions that benefit from acupuncture include: arthritis, carpal tunnel syndrome, facial and dental anomalies, fibromyalgia, headaches/migraines, tendonitis, bursitis and sports injuries.


Myofascial Release Technique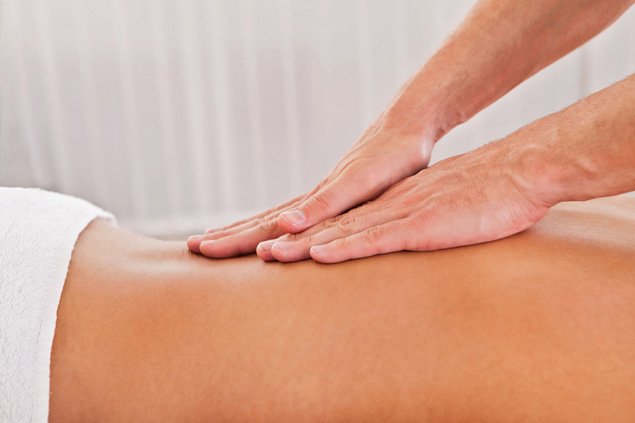 Myofascial Release is a hands-on therapy which can directly improve the health of the fascia. The Myofascia is like a superficial body suit, which allows us to move freely, breath properly and perform our daily tasks pain free. It spans the whole body and is totally connected as one piece of material. When Myofascia is damaged or traumatized it can become too tight and cause a number of problems such as: headaches, muscle pain and spasms, chronic back and neck pain, numbness, pins and needles and poor posture and reduced flexibility.
The purpose of Myofascial Release is to break down scar tissue, relax the muscle and myofascia and restore good posture. Myofascial Release technique is direct manipulation on the body using slow and sometimes deep pressure to restore the proper health of the fascia. Myofascial Release therapy has been used effectively for the reduction of muscle spasms, improved joint movement and breathing and the reduction of recurrent injuries.


Therapeutic Laser Technique
Laser Therapy involves using a proven medical device that safely and effectively stimulates deep tissue regeneration and relieves pain and inflammation.
Faster Healing from an Injury
• Improves the natural healing process in damaged tissue and promotes cell reproduction.
Anti-inflammatory Action
• Reduces swelling caused by bruising or inflammation of the joints, enhancing joint mobility.

Reduces Scar Tissue Formation
• Laser light reduces the formation of scar tissue following tissue damage from soft tissue tears, burns or post surgery
Increased Metabolic and Vascular Activity
• Increases the output of specific enzymes, increases greater oxygen and blood flow.


Custom Made Laser Scanned Orthotic
Many physical complaints of the foot, ankles, knees and hips can be traced to several factors, or a combination of several factors, such as; the need for better alignment of the foot, more stability and better distribution of the downward pressure on the foot. The ultimate goal of an orthotic is to correct any foot problems that may cause extra stress or pain to the feet, knees, lower limbs and back.
Assessment of the feet is done using a 3-Dimensional laser scan. This technology aims to deliver the best and most accurate analysis of the feet and, therefore, the most true orthotic fit to the foot. The scanned results are sent to Premier Labs in Burlington for the manufacture of the custom orthotic insert which transferrable from shoe to shoe.


Customized Exercise Program
Most injuries, post surgical conditions and chronic diseases can be prevented, or at best, managed with good health. This is best served through diet and proper exercise to keep the body in its best and most optimal function. Everyone is different and therefore benefits from an individualized or custom exercise program best suited to their body, lifestyle and activity level.


Arthritis Management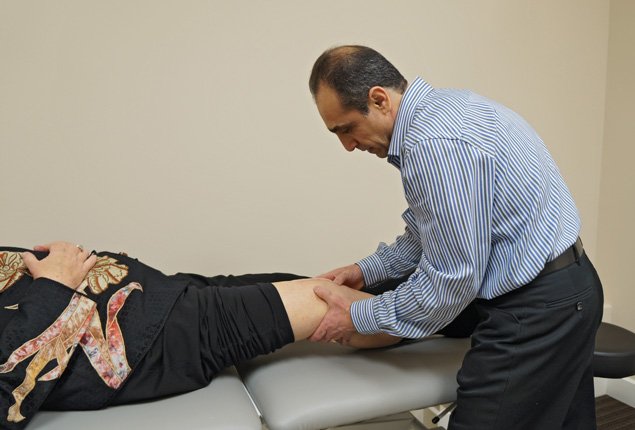 The practice of identifying and treating the sources that contribute to increased wear and tear of the arthritic joints and joint dysfunction.


Pre-Operative Rehabilitation
Where a diagnosis calls for surgery, a modern approach taken by surgeons and physiotherapists is to perform a rehabilitation program to improve the condition of the joint in the pre-operative phase.
This is known as prehabilitation and ensures the joint is in the best possible condition before entering surgery. This allows optimal recovery and a smoother passage through the post-operative phase, facilitating faster progress with reduced risk of post-surgery complications.


Post-Operative Rehabilitation
With our thirty years of combined experience, Dorval Physiotherapy will accelerate your recovery from surgery.
Initially, treatment will aim to quickly relieve pain and swelling, and protect the surgical procedure according to the surgeon's instructions. We will rehabilitate you as quickly and optimally as we can within the guidelines of the surgeon's protocol.
We are experienced with the pitfalls and complications that may occur and will monitor your progress closely to prevent this. We will also alert the surgeon for advice and intervention when necessary.
Physiotherapists at Dorval Physiotherapy and Wellness will work closely with your specific needs to progress you quickly and thoroughly through your rehabilitation.
We have particular expertise in the following areas of Post-Surgical rehabilitation:
Spinal
Shoulder
Elbow
Wrist and hand
Hip
Knee
Foot and ankle
Dorval Physiotherapy and Wellness can participate in your early discharge programs and can co-ordinate a program that meets your requirements.


Bauerfeind Braces
With Bauerfeind braces, we help people regain their mobility and wellbeing. We demand high-quality products, and our braces, medical compression stockings and orthopedic orthoses from Bauerfeind are all made in Germany.